Café Central Nguyen Hue: A New Generation of Food from the Heart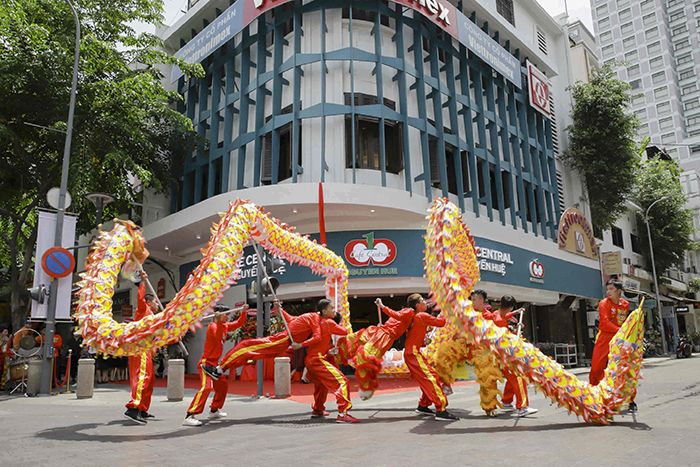 Café Central Nguyen Hue has always been about creating lasting memories by serving up wonderful food in a friendly and comfortable atmosphere. It has just celebrated its re-opening and 18th year anniversary on May 17 in an all-new location at the corner of Nguyen Hue Boulevard and Nguyen Thiep Street.
Opening its doors in 2002, the restaurant led the way in introducing an international culinary experience to Vietnam with its creative range of Vietnamese, pan-Asian and international cuisine.
You can try your favourite local dishes such as Bun Bo Hue and Hu Tieu Nam Vang; Asian classics like Nasi Goreng or wok-fried noodles with a choice of seafood or USDA beef; or something more international such as grilled New Zealand lamb rack or salmon with peach salsa. In addition, there is a great selection of dim sum, pizza and pasta.
The new location is spread over three floors, with seating for 80 on the ground floor arranged around a central bar counter, and a further 60 seats across the mezzanine and first floor.
The new interior design features an extensive use of wood panelling and earthy tones with splashes of turquoise and blue to create a sophisticated yet entirely comfortable and welcoming atmosphere. On the mezzanine level, the use of booth seating makes for an especially cozy and secluded feel.
The building itself has had a colourful history, where from 1951 it was home to Nam Đông Á Esaco, a manufacturer of electronic machinery, and then Viettronimex after 1975. Up until June 2019, the bottom floor had been Ciao Cafe.
Mr. James Young, Vice President Resource Planning and Development for WMC Group, which operates Café Central said the move for Café Central Nguyen Hue represented an exciting new chapter in the brand's history.
"In spite of current challenging time of the global economy, Café Central has continuously improved facilities, upgrading services to better serve guests who have supported us over the years," he said, "I look forward to Cafe Central constantly expanding, growing and serving many more happy diners for generations to come."
As a special reopening and anniversary offer, until May 31 diners will receive 20% off on all food and beverage items. As always, Café Central Nguyen Hue will be open for all-day dining from 7am to 11pm every day.
Café Central Nguyen Hue
Open daily 7:00 – 23:00
74 Nguyen Hue Blvd., District 1, Ho Chi Minh City
Tel: (028) 3822 6800
info@cafecentral.vn
cafecentral.vn/cafe-central-nguyen-hue/
facebook.com/CafeCentralNguyenHue