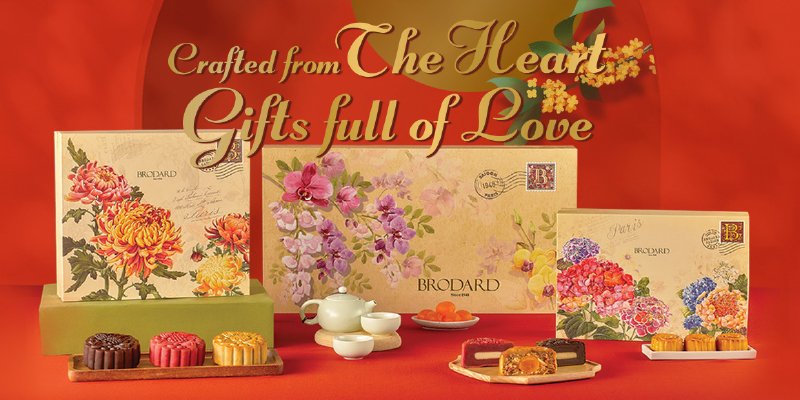 For Brodard, famous since 1948 – proudly to preserve a part of Saigon's heritage, the Mid-Autumn Festival is a traditional celebration that has been preserved for generations. It is a special occasion for everyone to send expressions of love with poetic wishes and sweet mooncake gifts to bring about health, peace, and happiness.
With an emphasis on a message of love in the season of reunion, Brodard introduces Mid-Autumn Festival gift sets "Crafted from the Heart – Gifts Full of Love" that have been elegantly designed with iconic imagery reflective of vintage postcards to be valued gifts for loved ones, friends, and business partners.
Brodard's three mooncake sets are designed in brilliant colours with prominent floral accents symbolizing joy, peace, fortune, and luck, elegant gifts to be shared during the celebration on the night of the full moon.
The gift set "Hoàng Gia" features the beauty of a blooming orchid, that represents prosperity and luck. The four premium cakes symbolize "như ý – cát tường" (a wish for everything to your liking and full of good omens) and includes Vietnamese Oloong tea. The Hoàng Gia gift box includes two options to choose: Hoang Gia Honey Combo priced at 2.800.000VND per box, including 4 cakes with 4 flavours of Abalone & shark's fin, Roast chicken & shark's fin, Butterfly pea & cream cheese, Lotus seed & green tea, two boxes of tea and two jars of honey; Hoang Gia Pure Bird's Nest Combo at 6.000.000 VND per box, including  the same 4 cakes of Hoang Gia Honey Combo, two boxes of Oloong tea and a box of Pure bird's nest (50gr).
The gift set "Tài lộc" with its vintage design features a postal stamp from Saigon on an envelope with the imagery of a chrysanthemum flower in all its beauty and represents a gift full of happiness, joy and luck. The four-cake box offers wide choices of tastes including Assorted combination, Roast chicken, Vegetarian mung bean, Taro, Butterfly pea & cream cheese, Lotus seed & green tea.
In addition, Brodard also offers the mooncake set "Salted Lava egg yolk" adorned with beautiful Hydrangea flowers to deliver a message of sincerity and gratitude to loved ones. The box includes six Salted egg yolk lava mooncakes at 720.000 VND.
For the lavish gifts on the occasion of the Mid-Autumn Festival, Brodard has created 18 unique mooncake flavours featuring traditional and modern choices, including savoury, sweet and vegetarian flavours, promising to bring about an enjoyable and distinctive experience.
A highlight of this year's mooncake flavours from Brodard is the Osmanthus flower, wolfberry & lotus seed mooncake, an ideal gift to promote physical and mental health. The unique combination of wolfberry, renowned for its health benefits, with a sweet taste and gentle aroma of the osmanthus flower combines with a dash of marmalade for an elegant and delightful treat. In addition to the nutritional value, the orange-red colour from the wolfberry and the yellow colour from the osmanthus flower symbolizes luck and unity during the Mid-Autumn Festival.
Besides, one more new flavour this year is a "Vietnamese-style Western" butterfly pea flower & cream cheese mooncake, the iconic floral ingredient presents numerous health benefits and an attractive aroma with delicate taste.
Brodard is offering a discount of 10% from 13 to 25 of July, 2022 for all mooncakes as a way of showing appreciation to the customers who have supported Brodard through the years.
For order, please contact Hotline: 0913 04 1948 or email: brodard@brodardbakery.com.