Oktoberfest Vietnam 2015 – A Celebration of German Culture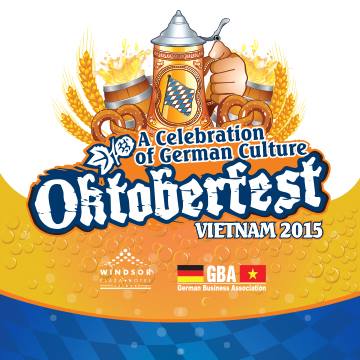 07 September 2015
Oktoberfest Vietnam is coming once again to Ho Chi Minh City in 2015! The German Business Association in Vietnam and the Windsor Plaza Hotel will once again host Oktoberfest Vietnam this year from 8th through 10th October and continuing on 14th to 17th October from 18:00 to 24:00.
Taking its roots from the original Oktoberfest held in the Bavarian city of Munich, Germany, Oktoberfest Vietnam celebrates the introduction of German culture and partnership to Vietnam. This annual event recreates the authentic atmosphere found in the massive beer halls of the original Oktoberfest, complete with savory German cuisine, premium imported German beer, and traditional Bavarian music.
New to Oktoberfest Vietnam, the organizers are proud to welcome An Ton Show Band. An Ton Show Band is a traditional Oktoberfest band which has played concerts worldwide. From beer tents to banquet halls, An Ton Show Band is famous for their beer-toasting medleys.
Everyone from the German, Vietnamese and international communities are invited to witness and enjoy the festivities—from the rituals of opening a barrel of beer to wearing traditional costumes, dancing to foot-stomping music, all-you-can-eat authentic German cuisine such as sausages, sauerkraut, sauerbraten and pretzels, overflowing beer, exciting games, prizes, and much more.
Guests will be presented with a collectible Oktoberfest Vietnam beer stein and will have the chance to win exciting prizes from the nightly lucky draws.
Oktoberfest is one of the most famous and biggest festivals in the world, tracing its roots from 19th century Bavarian, Germany. In Vietnam, the Windsor Plaza Hotel and the German Business Association have been hosting the event since 2005. Oktoberfest Vietnam was recognized by Reuters as one of the Top 10 Oktoberfest celebrations outside Germany, and was also featured in the Chicago Tribune.
Diamond sponsors of Oktoberfest Vietnam 2015 include Rieckermann Machinery & Industrial Solutions and Mercedes-Benz Vietnam. Platinum Sponsors include BASF Vietnam, DNV GL Vietnam, Häfele Vina JSC and Suntory PepsiCo Vietnam Beverage Ltd Co. And this year's Gold Sponsor is Kärcher Co., Ltd.
Information on ticket prices:
Wednesday & Thursday
1.000.000VND net
Friday & Saturday
1.300.000VND net
Special Early Bird Discounts available now! Save 35% off weekday ticket prices now until 25th September 2015.
Book your tickets online at www.oktoberfestvietnam.com or call the hotline at 0908477489.
Like us on Facebook: www.facebook.com/OktoberfestVietnam
Oktoberfest Vietnam
7th Floor Jade Ballroom
Windsor Plaza Hotel
18 An Duong Vuong Street
District 5, Ho Chi Minh City, Vietnam