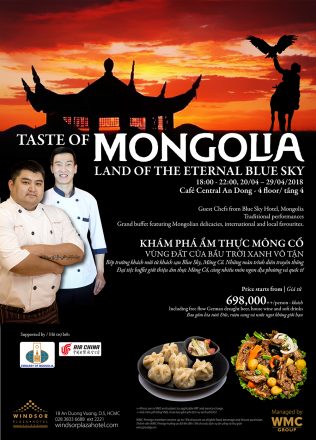 From the vast and open sweep of the Mongolian steppe a hardy nomadic people have developed a cuisine unique in the world, and this will form the centre-piece of Windsor Plaza Hotel's Mongolian Culinary Fair.
At Café Central An Dong from 20 to 29 April guests will be treated to two different buffets of traditional Mongolian fare presented by two visiting guest chefs from the country's capital, Ulaanbaatar.
Chef Dagvadorj Lkhagva is the Executive Chef at the Blue Sky Hotel & Tower, where Chef Usbold Tumurbaatar is also the Chef De Partie. Both men have a deep knowledge and understanding of the culinary traditions of their homeland, while also benefiting from extensive training and experience in Europe.
Some of the traditional dishes for guests to enjoy include smoky ox tongue, char grilled BBQ lamb skewers, spinach dumpling soup or baked meatballs with egg and bone marrow. Desserts are also a highlight, with offerings including iced honey and yoghurt, barley flour truffles with chocolate or dried milk curds.
This unique gastronomic adventure is available for lunch and dinner Monday to Friday for 468,000++per person and at dinner for 698,000++ per person. Both include free flow of German beer and house red and white wine.
On the weekend, you can enjoy for lunch for 518,000++ per person and at dinner for 798,000++per person, including a free flow of sparkling wine, house red and white wine and German beer.
Café Central An Dong
Level 4, Windsor Plaza Hotel
18 An Duong Vuong St., Dist. 5, HCMC
T: (028) 3833 6688
cafecentral.windsorplazahotel.com
facebook.com/cafecentralandong