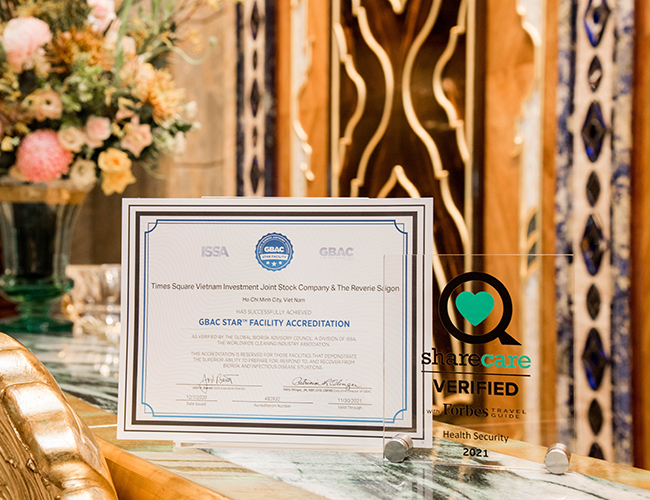 Vietnam's most opulent hotel is now also one of the country's safest
HO CHI MINH CITY, Vietnam (Apr. 6, 2021) – Vietnam's only Leading Hotel of the World is now leading the charge in keeping visitors healthy and safe. The Reverie Saigon has received two globally recognized health and safety standards, designed to assure guests that they're going above and beyond when it comes to cleanliness.
The five star property is now the only Sharecare Health Security VERIFIED™ with Forbes Travel Guide hotel in Ho Chi Minh City. The "seal of approval" is based on the hotel's compliance with expert-validated best practices that minimise the risk and impact of COVID-19 and potential future public health events.
The thorough verification covers more than 360 standards across health and hygiene protocols, cleaning products and procedures, ventilation, physical distancing, the guest experience, and health safety communication with guests and employees. With this standard hotels are also required to verify their health protocols on an ongoing basis.
The Reverie Saigon is now also one of just four GBAC STAR™ accredited hotels in Vietnam. The GBAC STAR is given by the Global Biorisk Advisory Council, a division of ISSA, the world's leading trade association for the cleaning industry.
To achieve GBAC STAR accreditation, facilities must comply in 20 different areas, with the comprehensive list including such requirements as sanitizing common areas and elevators every hour, maintaining a temperature monitoring programme, wearing masks, and blocking rooms for three days after guest checkout to ensure thorough cleaning and disinfection before a new guest checks in. Like Sharecare the hotel must demonstrate these standards are being met on a continual basis. "COVID has caused the entire hospitality industry to take a thorough look at their standards to ensure the health and safety of guests and employees is at the forefront of all they do," said Managing Director, Ms. Eva Hue Van Truong. "As travel opens up, hotels achieving and maintaining globally-recognised standards like GBAC STAR and Sharecare Health Security VERIFIED, are essential to the industry moving forward in a safe manner."
Media contact: marketing@thereveriesaigon.com
The Reverie Saigon
22-36 Nguyen Hue Boulevard & 57-69F Dong Khoi Street | District 1 | Ho Chi Minh City | Vietnam
T: +84 (0) 28 3823 6688 | F: +84 (0) 28 3822 3355 | info@thereveriesaigon.com |
www.thereveriesaigon.com
The Reverie Saigon
Times Square Building
22-36 Nguyen Hue Blvd. & 57-69F Dong Khoi St.
District 1, Ho Chi Minh City
Tel: (028) 3823 6688
www.thereveriesaigon.com
www.facebook.com/thereveriesaigon
(Applicable for WMC Prestige membership)