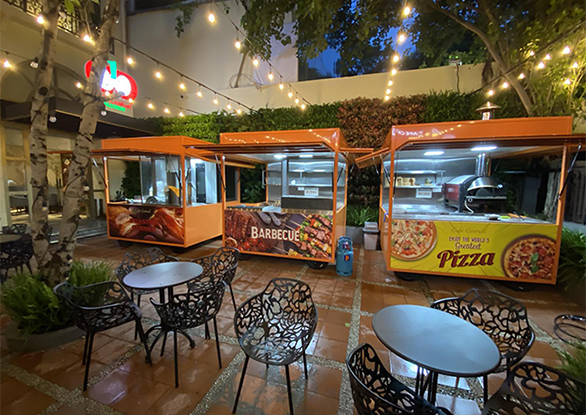 Ho Chi Minh City, August 13, 2020 – On 13 August, Café Central Villa Pasteur will open its doors with a whole new concept to once again delight Ho Chi Minh City's diners.
Located in a beautiful colonial-era villa on historic Pasteur Street in the city's leafy District 3, the restaurant offers an extensive selection of Western and Vietnamese favourites, and also an all-new choice of traditional Guangdong cuisine, including a special Chinese hotpot menu.
The restaurant's open-air space has also been re-imagined and now has pizza, barbeque and roast counters, the latter featuring duck, pork and chicken.
As a special re-opening offer, from 13 August to 13 September, all diners will receive a 20 percent discount on their total bill, whilst WMC Prestige card holders will benefit from a 30 percent discount. Both these offers are subject to applicable conditions.
The spacious and airy multi-level venue and central location mean Café Central Villa Pasteur is ideal for all sorts of gatherings, so why not book a table today?
Café Central Villa Pasteur
Open daily: 07:00 – 22:00
A: 202 Pasteur Street | District 3 | Ho Chi Minh City
T: (028) 3829 2888
facebook.com/CafeCentralVillaPasteur
Loyalty Program wmcprestige.vn
About WMC GROUP
Windsor Property Management Group Corporation (WMC Group) is a hospitality and property services management company headquartered in Ho Chi Minh City (Saigon), Vietnam. The company's diverse management portfolio includes hotels, serviced apartments, offices, restaurants and commercial shopping centers.
Guided by the company vision and mission, WMC Group is now embarking on a dynamic path of expansion and growth to become one of Vietnam's leading hospitality and property management groups.
For more information, please visit: www.wmcvietnam.com
MARKETING MANAGER CONTACT    
Café Central Villa Pasteur
Ms. Huynh Do Ngoc Tam | tam.huynh@wmcvietnam.com