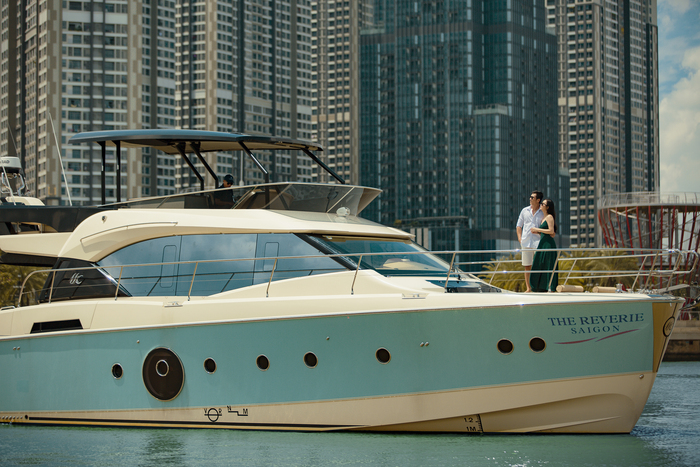 Ho Chi Minh City, Vietnam – The Reverie Saigon, known for its opulent accommodations and exceptional service, is proud to announce its latest offering: the most luxurious yacht experience on the market. Whether guests are looking to celebrate a special occasion or indulge in a day of relaxation, The Reverie yacht experience promises to exceed expectations.
The Reverie yacht is a private, custom-built vessel equipped with the finest amenities and staffed with a team of butlers trained to anticipate guests' every need. The yacht can comfortably accommodate up to ten guests and features luxurious cabins, a fully-equipped kitchen, and multiple indoor and outdoor lounging areas.
The yacht experience offers special packages designed to cater to specific needs and preferences.
SIGNATURE YACHT EXPERIENCE – VND35,000,000++/ 2 hours for two people.
An incredible two-hour yacht cruise for two people, available from 05:30 to 19:00. Guests can choose from a sunrise cruise from 05:30 to 07:30 or a sunset cruise from 16:30 to 18:30. The package includes canapés, one bottle of Champagne and soft drinks for two people, as well as butler service onboard. Guests will also enjoy a two-way transfer from The Reverie Saigon to the yacht dock by Mercedes or BMW for two people or by van for more guests. The package includes one night in a Deluxe Room with breakfast for two people and one bottle of Mionetto Prosecco Brut.
GROUP GETAWAY (2-hour minimum) – VND26,000,000++/first 2 hours for up to 10 people.
This package allows guests to rent the yacht for at least two hours and can accommodate up to ten people. Guests can choose their preferred time slot from 08:00 to 17:00. The package includes butler service onboard and one night in a Deluxe Room with breakfast for two people and one bottle of Mionetto Prosecco Brut.
"We're thrilled to offer this exclusive yacht experience to our guests," said Francois Lievens
Executive Assistant Manager of The Reverie Saigon. "It's a truly magnificent way to experience the beauty of Ho Chi Minh City and the surrounding waterways, all while enjoying the luxurious amenities and services that The Reverie Saigon is known for."
For more information or to book The Reverie yacht experience, please visit their website or contact their concierge team at concierge@thereveriesaigon.com.
The Reverie Saigon
Times Square Building
22-36 Nguyen Hue & 57-69F Dong Khoi
D1, HCMC
(028) 3823 6688
www.thereveriesaigon.com
www.facebook.com/thereveriesaigon
For PR Inquiries
Phạm Hồng Nghĩa (Mr.)
Marketing Manager
070 294 9987
nghia.pham@wmcvietnam.com