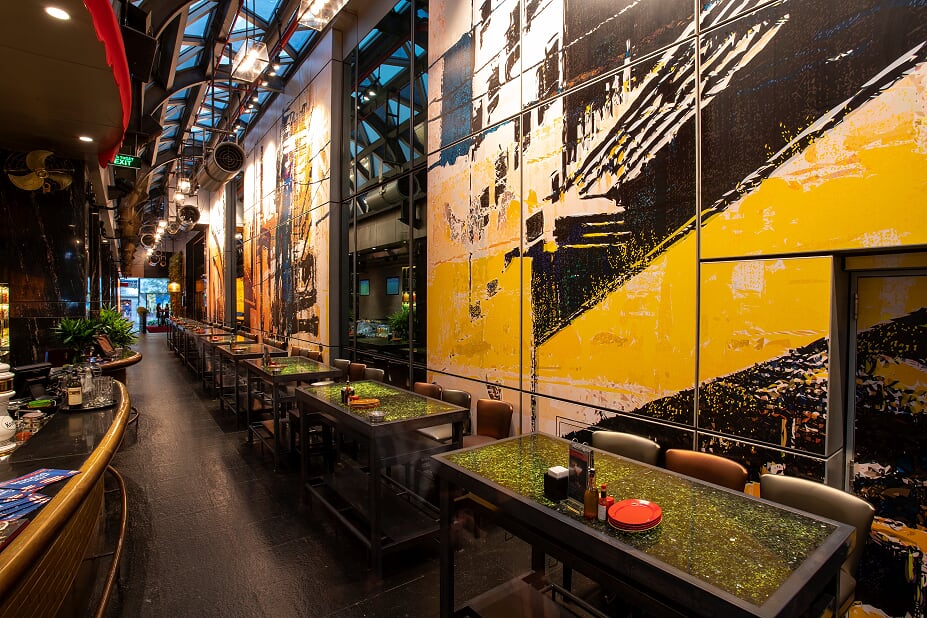 11 June 2018
Stretching between the city's most fashionable street, Dong Khoi, and pedestrian promenade Nguyen Hue Boulevard, the establishment now boasts a 122-seat indoor space, or guests can sit back in the 112-seat outdoor terrace to indulge in a little people watching.
The space has been re-imagined to incorporate and reflect the different functionality of each of the counters that wind their way along one side of the restaurant. The design is contemporary and urban, while still providing a feeling of relaxation and comfort. A silver-grey tone is punctuated by striking design elements such as the metallic-gold bottle shelves and strategically-placed wall mirrors.
Reflecting the inspiration The Long @ Times Square draws from traditional sidewalk trattorias, the menu features international cuisine and Asian favourites but with a strong traditional Italian theme anchoring the cuisine.
The imported wood-fired pizza oven, with its hand-hammered brass encasing, turns out authentic Neapolitan-style pizzas using Italian San Felice flour. New additions to the pizza menu include Pizza Fritta (deep-fried pizza) and Capricciosa, a delectable combination of mozzarella, tomato, ham, artichokes, olives and Porcini mushroom.
The famous snack menu has also been spiced up with the inclusion of Bianchetti (crispy-fried whitebait with Phu Quoc pepper and tartar sauce), smoked sausage with bacon, onion and potato, and rosemary-infused pizza bread with dips.
Of course, the antipasti and pasta dishes will draw attention with the arrival of items such as Frasella Tonno (slow roasted country bread topped with tuna flakes, tomato, onion capers and Italian oregano), and home-made squid-ink tagliolini with smoked salmon and 'mamma rosa' sauce.
There are still all the old favourites from burgers and sandwiches to Iberico pork ribs and grilled USDA ribeye, while over on the Asian counter you can treat yourself to crab fried rice, crispy-fried chili chicken or prawn and pomelo salad.
Mr. Kai Speth, WMC Group Vice President Operations and Business Performance, said the new look and menu of The Long @ Times Square reflected a commitment to constant improvement to stay at the forefront of the industry.
"The Long @ Times Square has developed a reputation as the best venue in downtown Saigon to meet friends, family and colleagues for a wonderful casual dining experience. This tremendous new look and feel ensures that reputation will endure for years to come," he said.
During Russia World Cup 2018 (until 15 July), take in all the action of this world's most-watched sporting event at The Long @ Times Square to get the most sporting of deals. Enjoy free-flow of Krombacher draught beer for only 550,000++, and you can show your true colours by wearing your team's jersey during their game to receive a free bar snack at half time.
The Long @ Times Square
22-36 Nguyen Hue Blvd. & 57-69F Dong Khoi St.
District 1, Ho Chi Minh City
Opening Hours: 10:00 – 24:00
T: +028 3823 6688
restaurant@thereveriesaigon.com
http://thelong.timessquare.vn/
https://www.facebook.com/TheReverieSaigon/
(Applicable for WMC Prestige membership)