Thai Culinary And Culture At Windsor Plaza Hotel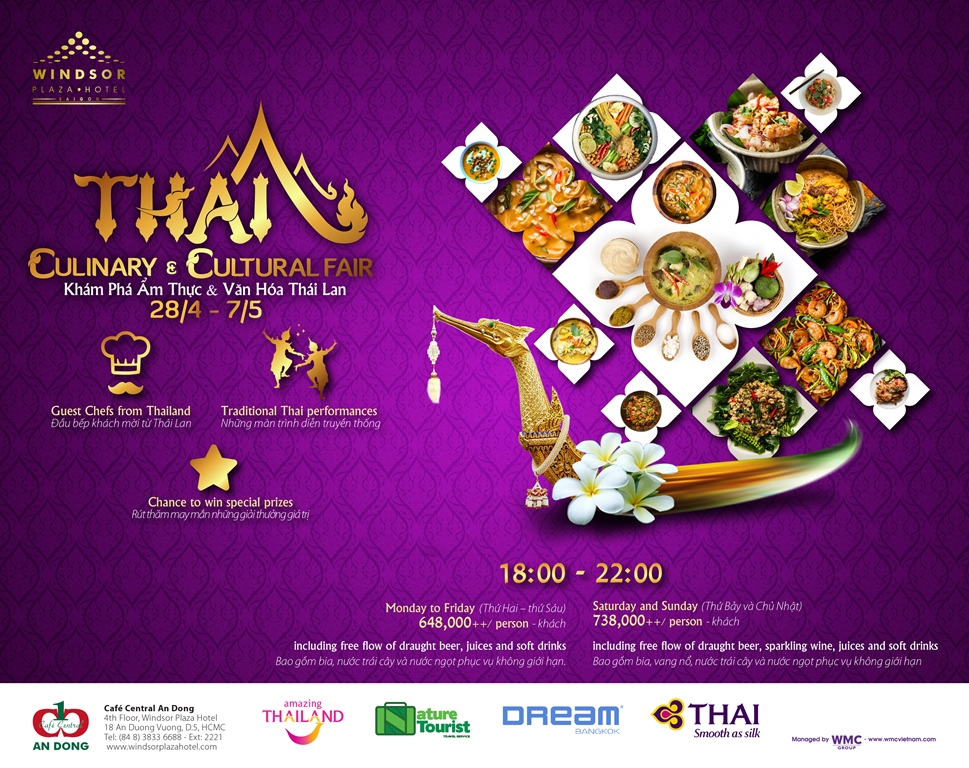 28 April 2017
Guest chefs from Thailand will be preparing a special menu of dishes from their homeland that will be available Monday to Friday for VND648,000++ per person including free flow draught beer, juice and soft drinks, and on Saturday and Sunday for VND738,00++ including free flow sparkling wine.
The headline attraction is Chef Booncherd Kaewplang, executive chef at the Dream Hotel in Bangkok. With more than 25 years of culinary experience, Chef Kaewplang has a strong belief in delivering classic flavors with a modern twist to Western and Thai cuisine. His dishes are uniquely prepared and imaginatively presented.
"Thai food is a delight to taste buds with its appetizing and spicy flavours, enhanced by the use of aromatic ingredients and spices, and combining the five different tastes of hot, sour, sweet, salty and bitter heightens the senses," said Mr. Adwin Chong, General Manager of Windsor Plaza Hotel. "It is no wonder that so many people around the world enjoy this cuisine. Not only will authentic and exotic Thai dishes be served, but the country's colourful culture will be showcased at our nightly international buffet," he added.
There will also be daily lucky draw prizes, with a grand prize of two return flights from Ho Chi Minh City to Bangkok to be won courtesy of Thai Airways, and a tour package for 2 persons of five days and four night in Bangkok and Pattaya to be won, sponsored by Nature Tourist. Traditional Thai handicrafts will also be for sale at a dozen street-stall-style booths.
Café Central An Dong
Level 4, Windsor Plaza Hotel
18 An Duong Vuong St., Dist. 5, HCMC
T: (028) 3833 6688
cafecentral.windsorplazahotel.com
facebook.com/cafecentralandong